Georgian Mobile Signs
Situated in Barrie, Ontario, Georgian Mobile Signs has been providing mobile signs to Central Ontario businesses and services for over 20 years. We are family owned and operated – when you talk to us you're talking to the owners!
WE'RE EXPANDING! You've asked us for other forms of signage, and now we can deliver! Sidewalk signs, changeable marker boards, wind spinner signs, A-frame signs, and more.
Get your message out and your customers in!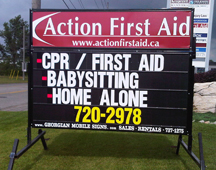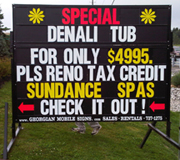 Contact Us
Location
53 Churchill Drive, Unit 3
Barrie, ON
L4N 8Z5
Phone
705-737-1275
Fax
705-737-0379
Email